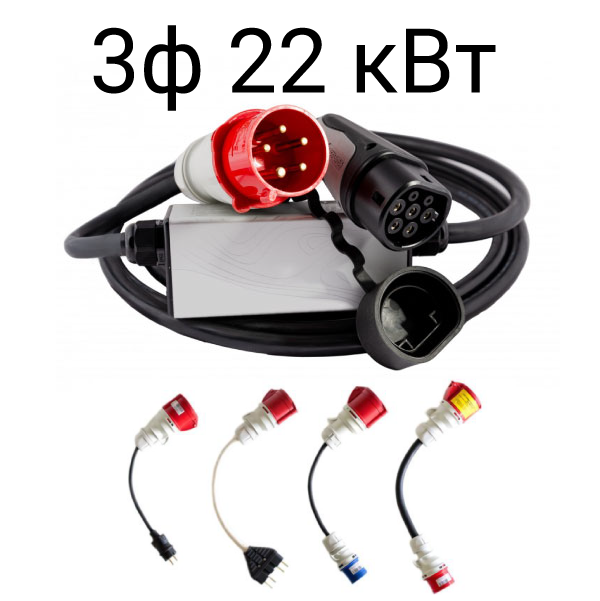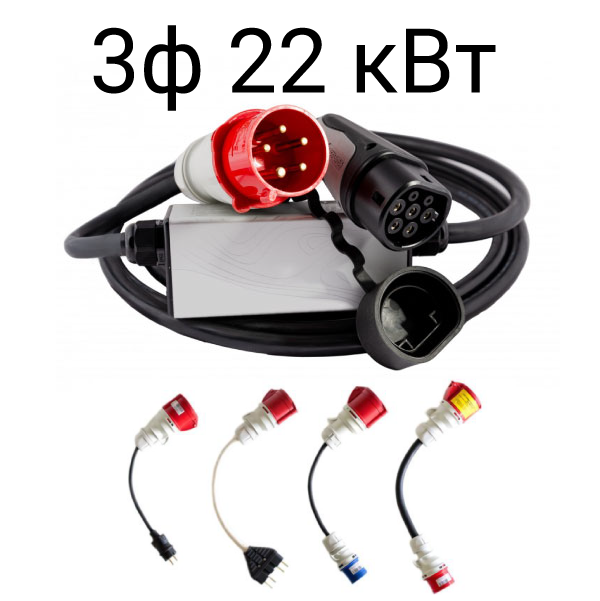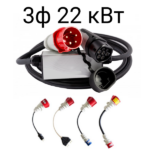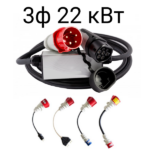 Мобилно зарядно за електрически автомобили 3ф 22 кВт к-т с адаптери
1.475,00лв.
Description
Tech specs
Additional information
Reviews (0)
Description
Мобилно зарядно за електрически автомобили. Универсално и съвместимо с всички електромобили и плъгин хибриди.
Това мобилно зарядно за електрически автомобили е леко, компактно и удобно за багажника и употреба на места без зарядни станции където има стандартни индустриални електрически контакти.
Срок за доставка: 12 работни дни
Crafted from aluminium, the mobile charger is as big as a modern mobile phone box. Provides up to 22 kW 3-phase charging (capable of 1-phase charging as well) and has a LED lit button for current (amperes) switching between 8 to 32A.
Включва комплект адаптери за монофазно и трифазно зареждане:
БГ трифазен
Шуко
CEE16A трифазен
Commando 32A монофазен
The devide is made in Czech Republic and is fitted with quality Phoenix Contact EV charging cable, manufactured in Germany. It is compatible with all Type 2 EVs, but can also charge Type 1 EVs and a Type 1 to Type 2 charging cable or adapter.
KEY FEATURES
Lightweight ans easy to use
Up to 22 kW charging (3-phase)
Quality solid EU made
LED status
Current (amperes) switch by a button (8, 16, 24, 32A)
В комплект с адаптери осигурява многофункционално зареждане (вдясно) – ВКЛЮЧЕНИ В ЦЕНАТА
С удобна чанта за съхранение в комплекта
TECH SPECS
Cable
Type 2 (IEC 62196-2) to the vehicle
CEE32 plug to industrial mains socket
Connection type
Output power
1-phase 230V/AV up to 32A, 7.4 kW
3-phase 400V/AC up to 3x32A 22 kW
Power meter
Safety
Residual current device embedded
Protection
Solid aluminum enclosure
IP54
Operating temperature
Certificate
Warranty:
Подходящо за:
Audi e-tron Quattro
Audi e-tron GT
Audi A3 e-tron Plugin Hybrid
Audi Q4 e-tron
BMW 2 iPerformance Active Tourer Plugin Hybrid
BMW 7 iPerformance Plugin Hybrid
BMW i3
BMW i4
BMW iX3
BMW i8
BMW 3 Plugin Hybrid
BMW 5 Plugin Hybrid
Citroen e-C4
Citroen e-Space Tourer
CUPRA Born
Dacia Spring Electric
DS 3 Crossback E-Tense
FIAT 500e EU от 2020
Honda e
Hyundai IONIQ Electric
Hyundai IONIQ Plugin Hybrid
Hyundai Kona Electric
IONIQ 5
Jaguar I-Pace
KIA Soul EV 2 от 2019
KIA e-Niro
KIA EV6
Lexus UX 300e
Mazda MX-30
Mercedes-Benz B-Class ED
Mercedes-Benz C-class Plugin Hybrid
Mercedes-Benz GLE Plugin Hybrid
Mercedes-Benz S-class Plugin Hybrid
Mercedes-Benz EQA
Mercedes-Benz EQB
Mercedes-Benz EQC
Mercedes-Benz EQS
Mercedes-Benz EQV
MG ZS EV
MG MG5 EV
MG Marver R
Mini Cooper Electric
Mini Countryman Plugin Hybrid
Mitsubishi Oultlander Plugin Hybrid
Mustang MACH-E
Nissan Ariya
Nissan e-NV200
Nissan LEAF 2 2018-
Opel Ampera-e
Opel Corsa Electric
Opel Vivaro Electric
Opel Zafira-e
Peugeot e-208
Peugeot e-2008
Peugeot e-Rifter
Peugeot e-Traveller
Polestar 2
Porsche Taycan
Renault Megane E-tech
Renault Kangoo ZE
Renault Twingo Electric
Renault ZOE
Seat Mii Electric
Smart ED
Skoda Enyaq IV
Tesla Model 3 (European)
Tesla Model S (European)
Tesla Model S (European)
Toyota Proace Electric
Volkswagen e-Golf
Volkswagen e-Up!
Volkswagen ID.3
Volkswagen ID.4
Volvo C40 recharge
Volvo S90 Plugin Hybrid
Volvo V90 Plugin Hybrid
Volvo XC40 Recharge
Volvo XC60 Plugin Hybrid
Volvo XC90 Plugin Hybrid
and others.
Зарядното може да се използва за всякакви електромобили с Тип 2 порт като най-висока мощност на зареждане осигурява за:
Audi e-tron с 11 кВт или 2х11 кВт бордово зарядно
BMW i3 (след 7.2016) с 11 кВт бордово зарядно
DS 3 с 11 кВт бордово зарядно
Hyundai Kona (след 3.2020) с 11 кВт бордово зарядно
IONIQ 5 с 11 кВт бордово зарядно
Jaguar I-Pace (след 10.2020) с 11 кВт бордово зарядно
KIA e-Niro с 11 кВт бордово зарядно
Porsche Taycan с 11 кВт или 22 кВт бордово зарядно
Renault ZOE с 22 кВт инвертор
Skoda Enyaq с 11 кВт бордово зарядно
Smart ForTwo с 22 кВт бордово зарядно
Tesla Model S с 22 кВт или 16.5 кВт бордово зарядно
Tesla Model 3 с 11 кВт бордово зарядно
Tesla Model X с 16.5 кВт бордово зарядно
VW ID.3 и VW ID.4 с 11 кВт бордово зарядно
and others.
Additional information
| | |
| --- | --- |
| Weight | 7 kg |
| Dimensions | 25 × 18 × 33 cm |
| Power | 22 kW / 32A 3ph |